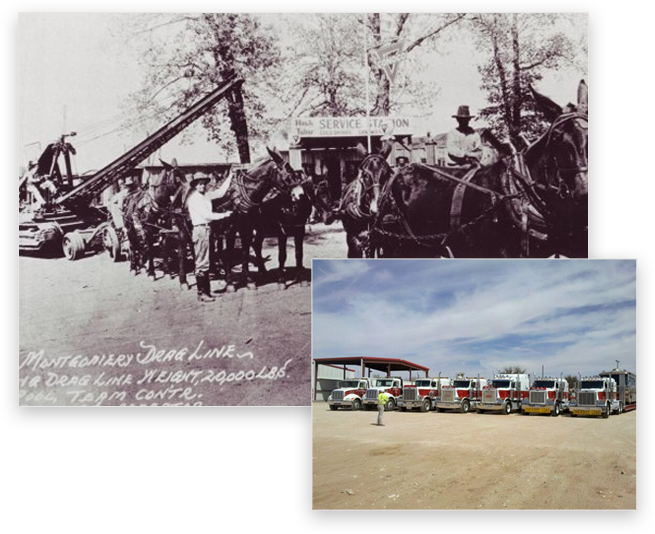 Local Tow Company
in Odessa, TX Since 1963
Neal Pool Rekers is a tradition in Odessa, Texas.
Founded in 1963 by Neal and his wife Hilta Pool, Neal Pool Rekers is the offshoot of Neal's father's original business. Many years prior, Ira Pool used a team of mules to haul whatever needed hauling for the local population. Over the years, this evolved into what today is Neal Pool Rekers.
NPR gets its unique name from the Pools being in the rental business first – their "NPR" letterhead stood for Neal Pool Rentals. When a local automotive dealer asked the Pools to take over his towing service, the Pools consolidated the two businesses under the NPR moniker and Neal Pool Rekers was born.
Neal and Hilta ran NPR so successfully that during the late 1960s and '70s, the company was the largest employer in Odessa. Sadly, Neal passed away in 1976 but Hilta continued to run the company with her son, Mike. Choosing to forego the rental side of the business, Mike and Hilta instead focused on towing. Hilta continued to work with Mike until 2003 and then she passed a few years later.
Today, Mike is the CEO and runs the company with his daughter, KJ. Together they are proud that the family-owned company retains the values established by Neal and Hilta, while also embracing the technology of today's towing and recovery industry. They have 23 employees in charge of a fleet that includes five light-duty trucks, six heavy-duty units, five medium-duty rollbacks and more.
They are particularly proud of the fact that NPR is the largest towing operation in the Odessa, TX area and credit their success to their single-minded focus on towing. NPR has no body shop or salvage yard, it's a towing operation only. They're also proud of the fact that many of NPR's employees have been with our tow company for 10 to 20 years or more. And finally, Mike and KJ are proud that NPR offers emergency 24-hour towing services and roadside assistance at a respectable price, updated equipment and courteous, professional and well-trained employees.
At its most basic, NPR adheres to Neal Pool's original business philosophy: "I don't want to tow anybody's car one time. I want to tow it twice, so you better be damn good and damn fair about it the first time around."